Discover more from Community Feelings
I've been building communities at Etsy, Airbnb, and Lyft for 15 years. What will you find here? Musings, best practices, guides and templates to help community managers, and community-first founders build healthy networks.
✨ Some hope for social spaces
Two new social platforms building for inclusivity, safety, and joy
White supremacy thriving online. The Breonna Taylor verdict. Election misinformation all over the place. It's been hard to write about community for the last few weeks. I had a small glimmer of hope this morning so I'm riding this wave…
---
A few newsletters ago I talked about the new The Community Fund and I shared a dream for funding:
🌈 Someone build a new social network for all built by women, LGBTQ+, BIPOC, POC, and/or people with disabilities.
And on the wake of a lot of buzz around A Social Dilemma (which was clearly missing diverse voices! Was Safiya Umoja Noble PhD, author of Algorithms of Oppression, not available for comment during these interviews?!), I see some movement in healthier networks for all!
Naj Austin, CEO and Founder of Ethyl's Club, just launched a 'social playground,' built by "a team of Black, Latinx & queer folks building an online world that's a reflection who we are, what we love & what we want to see in the world."
I've signed up for access, and you should, too! I'm excited to find out more.
Also this week, Telepath, a platform aiming to host human conversations, opened up to a new wave of members. Founder Marc Bodnick explains, "My ambition is for Telepath to build a community (1) which is great for women, people of color, and LGBTQ+ writers, (2) where disinformation doesn't proliferate, and (3) where the overall tone is very kind."
Tatiana Estévez, Head of Community and Safety, shares how Telepath's mission is to create a fun and safe place free of sexism, racism and transphobia.
I've been on Telepath for a few months and the conversations feel real and honest and safe! (I have one invite left, if you want it, shoot me a note!) If you're a community moderation nerd like I am, check out their Community Guidelines: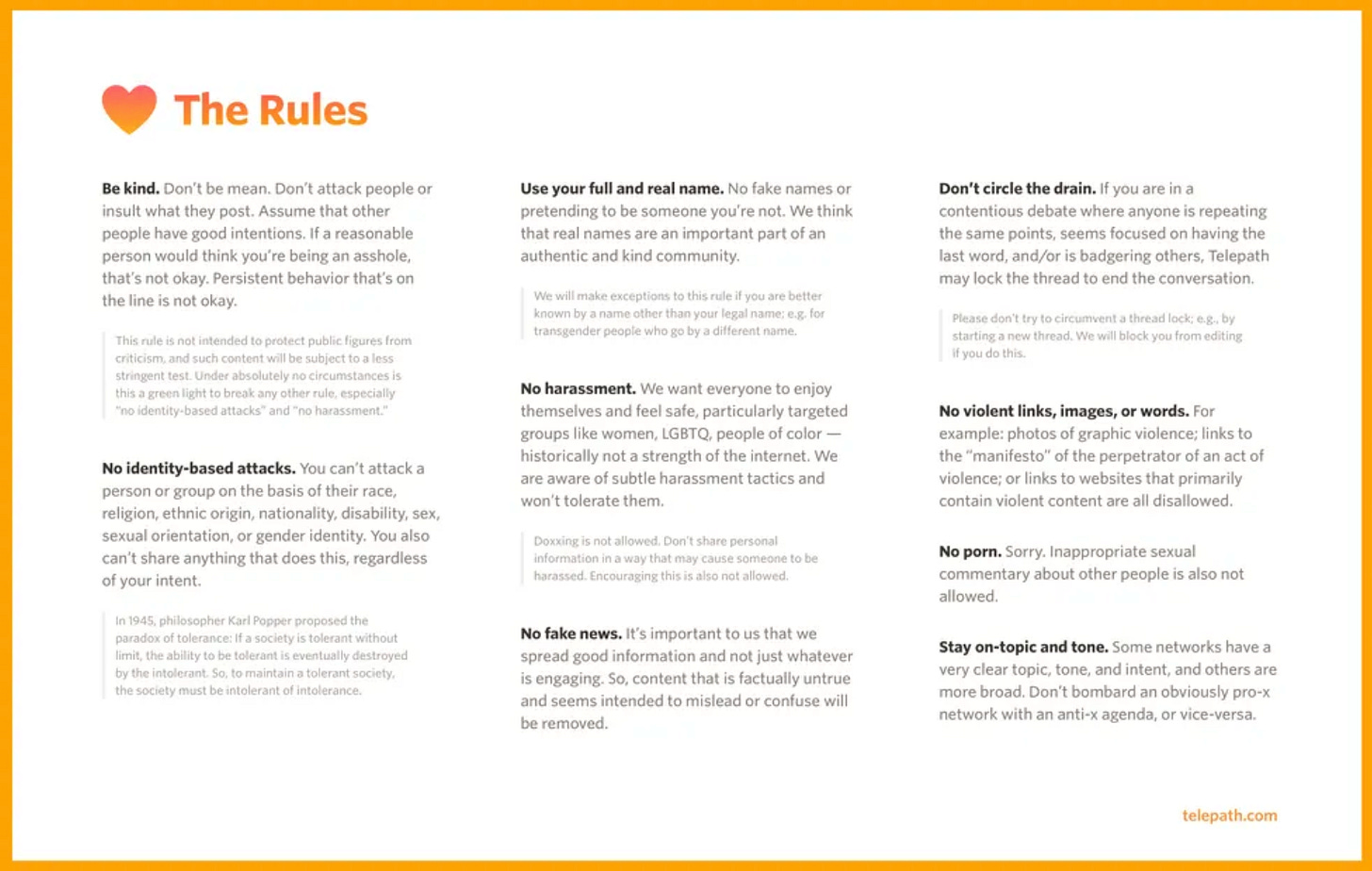 This question has and will continue to pop up: how can these platforms scale moderation, safety, and good vibes? You know, I never see this kind of hand wringing when we talk about solving other really hard problems like scaling user growth, or unlocking revenue models!
We need to get focused and figure out…
How can digital architecture shape human behavior for good?

What tools do we need to scale ethical human moderation––real people checking out every flagged post quickly? (and how can we pay these humans handsomely)

What tools can we give users to collectively monitor their spaces? (If a jerk comes to a party, we don't call the cops. We collectively get him out of there.)

How can our platforms support media literacy and privacy protection?
We can get ED pills delivered to the door without leaving our laptops. Elon Musk wants to colonize Mars. AI can write code.
Let's just put a stake in the ground and vow to create safe, healthy, inclusive, trustworthy places online and then inspire the smartest people we know to make it happen.
---
Extra credit!